To up a flat iron's functionality, a lot of the products available today are designed with curved housing. Although it won't really provide heat to the entirety of your hair's length, this design still allows you to curl your locks as well. With some expert twisting and flicking of your wrists, you can further tweak the look of your hairstyle.
Doing this, however, can hurt your wrist and even tire you out even before you step out of the house. Relying on your hand's dexterity might not be an issue when it comes to other tasks, but if you want consistent and uniform results when styling your hair, your wrist's abilities make a huge difference. Often times, you'll get great results on one side of your hair that sit opposite to your prominent hand and then get inconsistent curls or require multiple passes to straighten the other side.
Sometimes it's also quite difficult to replicate the twist you've made on one side of your hair to replicate the same results on the other side. You will get better with practice, but that also means days of looking like a total amateur. If you have to style your hair on a daily basis, this can also create a lasting damage, which can affect your arm and hand's future performance.
If you want to eliminate the need to flick your wrist but still get salon-quality hairdos every time you take the time to use a styling tool, the Tyme iron is something you should look into. With a tagline that reads, "the twist is in the tool and not in the wrist," you can already free your hand from all of the efforts it needs to exert to help you create a beautiful bob, some luscious locks, or the silkiest straight hair.
Specially designed to create salon-quality looks, the Tyme straightener will wow you not just because of its unique design and great results, but also because of its eye-catching style. We must admit that a lot of great flat and curling irons look generic and too utilitarian which can be a bummer if you like pretty things. With this product, though, you're not just promised top-notch hairstyles, but you also get a chic tool as well.
How It Works
What makes the Tyme hair iron so special is its twisted design. Unlike other flat irons, the plates of this unit don't really align straight when not pressed together. It clamps nicely when in use, though, so you shouldn't worry about it doing a good job in applying heat to your hair. It's just designed with a literal twist so you don't have to flick your wrist anymore when sliding the iron down the length of your hair. This way, you can still shape, curl, or straighten your tresses nicely without straining yourself.
While the Tyme iron has a different design, it works similarly to a regular flat iron. You'll need to portion your hair so every strand can get ample heat, though, to achieve the best results. You'll then need to place the sections in between the plates of the Tyme iron and pull the wand down the length of your hair.
Main Specs & Features
Interested in getting a Tyme curler? Check out its features below to get to know more about this product.
400° Fahrenheit / 204° Celsius Temperature Setting
Capable of styling even thick, coarse hair, the Tyme iron can produce up to 400F. This makes it a heavy duty heat tool that can really tame even the most stubborn strands. It also heats up in seconds so you can save a lot of time while prepping for your day ahead. However, it only has a single heat level, so it might prove to be too much for those with fine hair.
Gold-plated Titanium Plates
Titanium is an excellent material for flat iron plates as it transfers heat effectively and efficiently so you can expect the best results. It's also great for all types of hair and is very durable, making it great for heavy use. Plated with gold, the Tyme flat iron's plates promises smoother and shinier locks and easier use. This treatment will make the plates glide through your locks, so damage is further minimized.
Ionic Technology
To ensure your hair's good health, this Tyme product also uses ionic technology. By producing more negative ions, the positive charges found on your hair are neutralized, making your hair healthier. It also locks in moisture to your strands so the use of heat won't damage and burn your locks to a crisp.
Rotating Swivel Cord
Maneuverability is another thing the Tyme Hair Curler has to offer, thanks to its rotating swivel cord. No more need to reposition the wand so you can reach other parts of your head as the cable will easily adjust to the tool's directionality.
Travel Sleeve
Making this product more travel-friendly is the heat-resistant sleeve it comes with. This makes packing this styling tool more convenient and safer, but it will still be best if you can let the tool cool down a bit before packing it up to avoid any issues later on.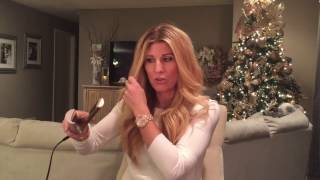 Pros and Cons
Is the Tyme Flat Iron a good match for you? Its product perks and disadvantages may help you decide.
Pros:
It's very pretty. The rose gold coloring combined with the sleek design is on trend and just gorgeous. It's definitely social media worthy and will add some sophistication to your vanity.
It won't hurt your wrist. The twist design will ensure you get the shape you want without straining your hand to achieve it.
It heats up quickly.
It can handle thick, coarse hair without a fuss.
You can find a good amount of Tyme iron reviews online so you can always refer to others' feedback before making a decision.
It only has an on/off button so you don't have to deal with other control buttons to work with this tool.
Cons:
The Tyme iron price is quite high compared to other flat irons in the market today.
There's a slight learning curve in using this tool, but once you got the techniques down to pat, it will be very easy to use.
It can be too hot for those with fine, fragile hair.
Should You Buy It?
With its great look and unique design, it's easy to understand why the Tyme curling iron is such a hit in social media nowadays. Combined with its promise of salon-quality results, you must already be interested in purchasing one.
So, should you get one? The answer here depends on your hair type. While the plates are suitable for all kinds, the single heat level should be your deciding factor. If it suits your needs, then, it can be a good pick for you.